In our digital society, data is invaluable to businesses. However, the storage and management of this data is highly dependent on servers. This high-stakes subject remains complex for some companies, especially if they do not have an IT team dedicated to outsourcing. Fortunately, effective solutions are coming on the market to facilitate this task. Louis, system and network administrator in the "IT Operations & Support Services" department of Qim info's expertises centre, presents RPort today. 
The RPort platform allows companies to manage their resources and monitor their status securely and in real time. Managing and securing resources means:
Secure connections through encrypted TCP tunnels
A single console to access different resources and access filtering to access them
Remote connection management (SSH, RDP, RealVNC, etc.)
Router, switch, printer, IoT management
Any TCP-based protocol, such as Windows file sharing (SMB), network printing, HTTP APIs, web servers, etc.

RPort is compatible with a wide range of cloud servers including Amazon Web Services, Google Cloud Platform, and Microsoft Azure. The tool is being actively developed, and the initial 1.0.0 version should be released soon.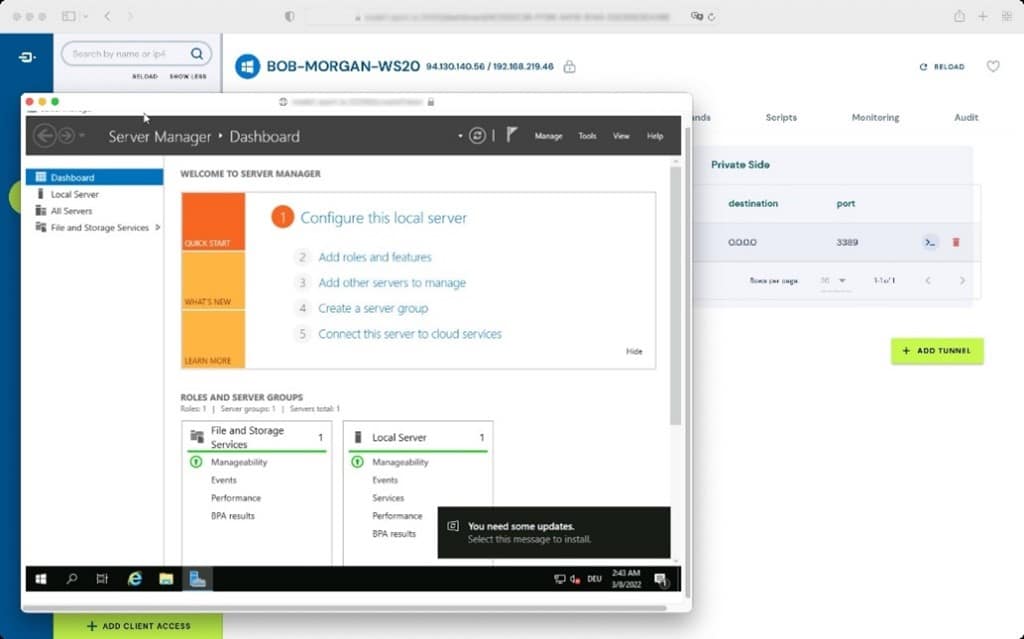 Simplified and centralised management
What advantages does the RPort solution provide?
The teams at our Centre of Expertises are interested in this platform because the RPort interface is simple and intuitive. The platform offers features such as user management, scheduled tasks, security updates, and performance monitoring. With RPort, companies can easily manage their IT infrastructure, including server optimisation, from a single interface.
RPort provides a real-time dashboard for system administrators to monitor the status of their IT infrastructure. When one of the servers fails or goes down, alerts can be sent to administrators to notify them. 
In addition, the RPort Plus plugin offers the possibility to link the solution with the following providers' SSO/OAuth:
This plugin is free now, but it will no longer be once version 1.0.0 is released. To consult the exhaustive list of RPort functionalities and those to come, take a look at the platform's website. 
Installation on Windows, Linux ? On-premise or cloud ?
RPort is compatible with on-premise or cloud servers but requires a Linux operating system running x86_64 or arm64.
Installation is easy and very fast. For example, on an Ubuntu on-premise server, you just need the runtime script and execute it with the parameters corresponding to your environment.
Any information you may need can be found in RPort documentation.  
One of the main missions of Qim info's Centre of Expertise IT Operations & Support Services department, is to offer solutions that meet its customers' outsourcing needs. Using RPort helps our teams answer a recurring problem our customers encounter: "Who has access to what from the company's network? ". The tool makes it possible to refine access filtering and offers more granularity than simple firewall rules.
Many Rport features are open-source, meaning that companies can freely customise and adapt the platform according to their needs. Registered companies can improve the platform by participating in its development.
In parallel, RPort offers an RPort Plus license to users wishing to access specific services:
RPort offers a wide range of features, compatibility and customization. It's a powerful solution of server management for all types of companies with controlled costs.
In 2023, the platform has seen some new additional features:
Access tunnels via a random subdomain on a fixed port, like 443, instead of random ports.
Advanced management of API tokens.
Custom labels to extend a client's metadata
And much more …!