Career development for consultants: A priority for Qim info
Floriane Sanchis has been a consultant since 2020, and during her career, precisely her time in the Salomon company, her training was financed by Qim info. This was an opportunity to grow in line with their professional aspirations, which led them to become Scrum Master.  
As a consultant with Qim info since 2020, Floriane Sanchis possesses the ability to infuse her professional career with captivating twists and turns. With a technical degree in Computer Science from Annecy-le-Vieux, she started a three-year work-study engineering degree. During that time, she developed code and then started managing technical projects. At the end of her apprenticeship contract, the young consultant interned for a start-up in Los Angeles, where she developed an in-house mobile application.  She joined the Qim info team in France and was soon involved in a project with Salomon, one of the companies in the Amer Sport group, specialists in outdoor sports equipment.. She is flourishing there, mainly thanks to the career development opportunities offered by Qim info.  
Floriane, how did your first few months in this company go?
First of all, before starting at Salomon, I had the opportunity to work in Qim info's Custom Software Development department within the Centre of Expertise. Soon enough, I was sent to interview with Salomon. As someone who loves nature and the mountains, this was an opportunity I couldn't pass up. And it worked because I was hired as an application tester. I mainly worked in Agile mode, testing developments and providing level 1 and 2 support. I was working simultaneously on 3 or 4 Product Lifecycle Management applications (design, development, production, and manufacturing of a product). I carried out this mission for over a year.  
"Qim info was very responsive, and the company agreed to support my career development by funding my Scrum Master training and certification."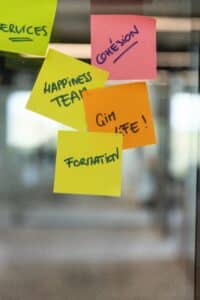 Is that when your career began to evolve?
The department was reorganised, and I focused on a single team and product. My project boss wanted to see my assignments evolve, so I was a Scrum Master for half my time and continued to carry out my usual duties in the other half. My time quite naturally turned into full-time Scrum Master assignments. I didn't have specific qualifications or certifications at that point in my career, so I started by training myself. However, as I hold a Scrum Master position without officially having the title, I asked Qim info to provide training in this area. Everyone was very responsive, and the company agreed to support my career development by funding my training and certification to be legitimate in my position.  
This was an incredible opportunity for you.
Yes, totally. I felt heard. At Salomon and Qim info, our consultants are well cared for. Thanks to this process and transparency, I could take part in this training course on the Agile Scrum Master method. I wonder if other digital services companies are as responsive and attentive to their consultants regarding career development! I'm only 26, and in a very short time, I was able to develop my skills in areas I enjoy. Today, I'm in my second year as a Scrum Master, and I'm doing this second job thanks to this caring environment that encourages change and growth. I managed just one team when I started, but now I'm in charge of three.
How do you see yourself in the future?
Above all, I'd like to continue developing my technological and methodological skills. I've also trained in the Agile Kanban method and want to obtain further certifications to improve my skills.  
What is a Scrum Master?
The Scrum Master is a fully-fledged member of a project team. 

 

Within the team, they apply the Agile Scrum method to help the whole team move forward with the project, protecting them from anything that might impede its running smoothly. 

 

They guarantee compliance with processes and ensure that team members communicate well with each other.

 

They ensure that the team is autonomous and multidisciplinary.

 

 
Fanny Gaud, business manager: "Proximity is the key to a successful career."
« When a consultant joins Qim info, we set up a genuine onboarding program. A career review is conducted with the recruiter, administrative manager, and business manager. We genuinely believe that proximity is the key to a successful career. During their career, consultants are presented with multiple occasions to discuss their career aspirations. These opportunities can include annual reviews, team lunches, and regular in-person or phone updates. The primary objective is comprehending the collaborator's desired path, enabling us to provide more effective training and cater to their needs ».