We are starting the year with a new spotlight on Qim info's Centre of Expertise through Loïc, Head of the Custom Software Development department.   
1. First of all, can you explain the name of your department?
Loïc: the name Custom Software Development perfectly captures our mission: We create custom business applications to meet our customers' needs.   
To provide the most optimal solution, we offer two operational modes:   
adding evolutions to an existing business application;
developing, together with the customer, a business application that corresponds to their needs.  
  
Our mission does not end there. Indeed, we continue supporting our customers beyond those first stages through our TMA service (third-party application maintenance) which brings useful evolutions and corrections to operate our applications. This is essential for those customers who do not have dedicated in-house resources.  
In addition, we work on large-scale projects based on RFPs and smaller projects where our support is essential to shape the client's ideas and explain their needs. This is where our Business Analysts come in.  
Speaking of Business Analyst, how many people work in your department? And what are their profiles?  
Loïc: today, our team is composed of a dozen collaborators with various profiles: Business Analyst and Product Owner, Technical Leaders, Backend and Frontend Developers, etc.
Frontend / Backend :
the Frontend designates the visible part of a web application with which users will be able to interact (tabs, images, etc.).
At the opposite, the Backend includes all the invisible components of the web application on which the application will rely to obtain data or perform processing.
Développeur Full Stack : 
the Full Stack developer has varied skills enabling him to develop both the Frontend and Backend of a web platform.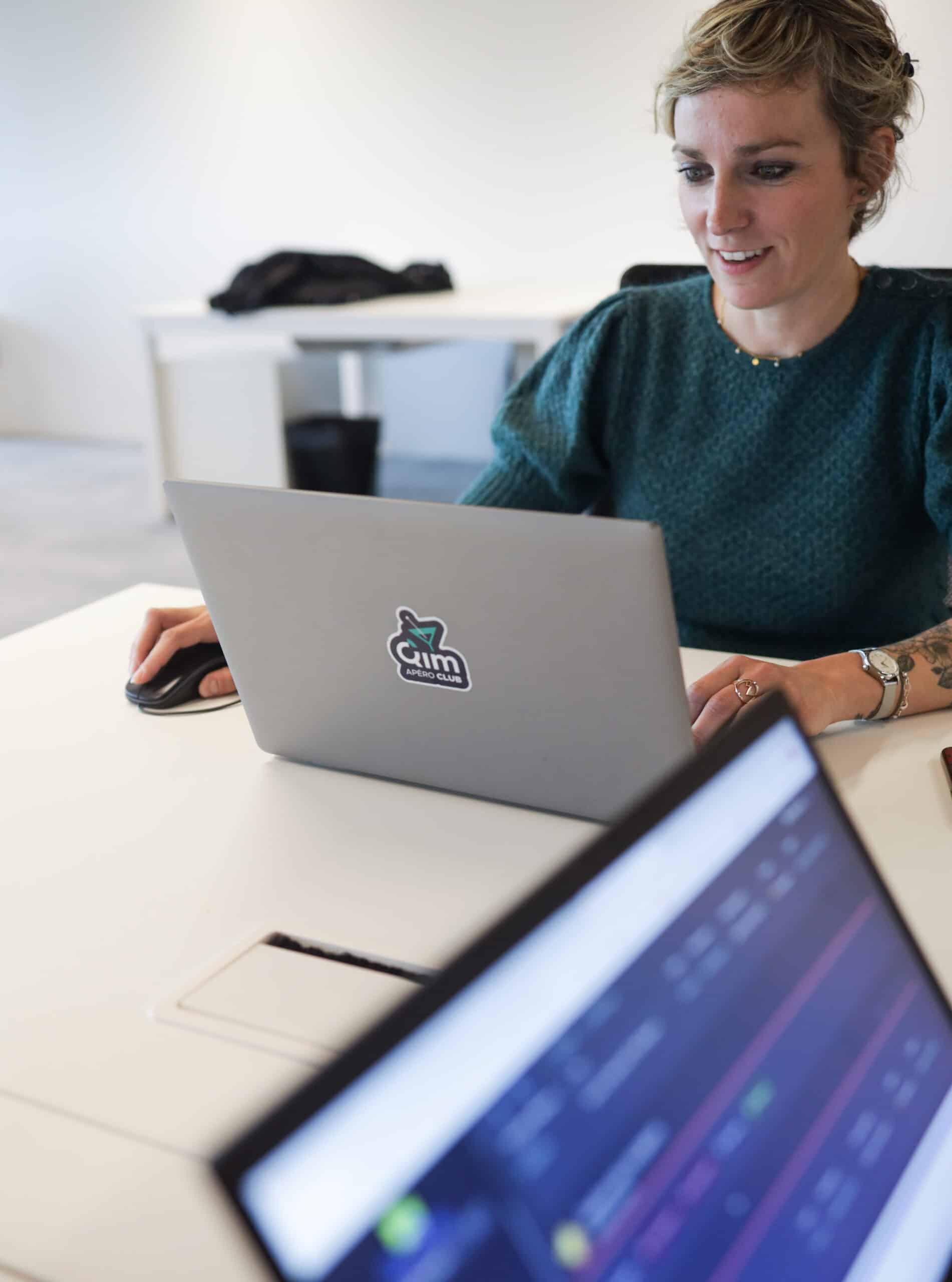 When a requests the Custom Software Development department's expertise, we dedicate a team composed of:   
a Business Analyst to identify the problem and collect the client's needs,  
a Technical Leader to technically oversee the project, 
and developers to create the web application.  


Together, they collaborate with agility, involving the client at every step. This is essential to the success of the project.   
To ensure greater responsiveness, most of our developers have Full Stack profiles. They master Angular, React, Vue.Js, .Net (that goes without saying since Qim info is a Microsoft Solutions Partner!), Java Spring Boot, and PHP Symfony technologies.
2. When do you call on the skills of other departments in the Qim info Centre of Expertise? 
Loïc: we work closely with our colleagues every day. It regularly happens that our customer's request exceeds just the application. That's when our team overs global support using the resources in the Centre of Expertise.  
 For example, Benjamin and his team in IT Operations & Support Services can intervene to supervise application operation by providing level 1 and 2 support services. In addition, our Cloud & DevOps Solutions department can offer a Cloud hosting solution or automated roll-out processes. Finally, our Data & Innovation department provides its expertise on data governance and structure for reporting.  
This is one of Qim info's and its Centre of Expertise's main strengths: Offering expertise at each stage of your project
3. Can you give us a more specific example of a project run by your department? 
Loïc: I am very proud of the project carried out with Services Industriels de Genève to create their goodGaz business application. Our client needed a tool to facilitate their employees' work and ensure operation tracking. We had to meet the needs of the salesperson making estimates and the technician making the gas connections.  
We set up a team of five people who worked for nearly 300 days.   
The people in charge of the project on the client's side were eager to co-build the web application from start to finish.   
Finally, the goodGaz app was delivered mid-2019, and we received great feedback from SIG! We are still maintaining this application three years later and continuing our collaboration with SIG on other projects.   
4. And to conclude this interview, what do you like most about your work?
Loïc: the diversity of projects! Working in 'project' mode for different clients allows us to learn about other business sectors. To develop the best possible solution, we need to understand the complexity of the field and its trades. Each project is a new experience!  
Working with my team is also part of what drives me every day. We share what we are working on, best practices, technological evolutions, and more. Each team member brings their individual expertise and vision. The diversity of profiles allows us to support our customers throughout the project phases, and it's always gratifying to have good feedback once the application is rolled out.