Keen to guarantee ever greater security in the processing of reports sent to its prescribers, in 2015 the Institut de Pathologie Romand decided to call on Qim info to create a dedicated IT solution. A successful gamble, as the laboratory is considering new collaborations with the Custom Software Development department.  
Confidentiality and Security: Project challenges for the Institut de Pathologie Romand
The Qim info teams love a challenge, so each new project represents an opportunity to mobilize their expertise to satisfy their clients with a turnkey solution that meets their needs. That's why, in 2015, the Institut de Pathologie Romand located in Lonay in the canton of Vaud (Switzerland) chose to turn to our Custom Software Development department to develop an ultra-secure, easy-to-use IT solution. The aim of this software is to facilitate the transmission of laboratory reports and ensure a high level of confidentiality regarding the sensitive data detailed in the documents. 
The specifics of the Institut de Pathologie Romand
"At the Institut de Pathologie Romand, we specialise in the analysis of biopsy and surgical specimens," explains the laboratory's founder, Dr. Walter Seelentag. We therefore analyse human tissues collected by endoscopic physicians, gastroenterologists (specialists in digestive system dysfunction), or even surgeons who perform intestinal or stomach operations." 
The institute is highly regarded in the medical world and was created in 2011 by the man who, during his professional career, worked at the universities of Geneva and Zurich. "15 years ago, I left the University of Lausanne to work in a laboratory belonging to a large analysis group. I stayed there for four years before deciding to create my own laboratory. That's how the Institut de Pathologie Romand came to be in 2011. " 
Improving the process for distributing medical analysis reports
"Since the institute's creation, we have been working with a management software package that allows us to monitor our laboratory staff's work and write reports. The problem was that the software didn't manage the client interface. Before working with Qim info, we had to edit reports on paper and send them by fax or e-mail. Today, this type of service is insufficient, especially for our clients. That's why I attempted to have a discussion with our software provider, but they showed no interest in developing a solution that would suit our requirements.
Consequently, I took it upon myself to search for a means of implementing an interface that could distribute these results to the intended physicians while ensuring utmost data security, considering the sensitive nature of the information being processed. It was at this point that an IT friend suggested I approach Qim info, a company capable of providing the solution I was in need of."
Dr. Walter Seleentag, Director of the Institute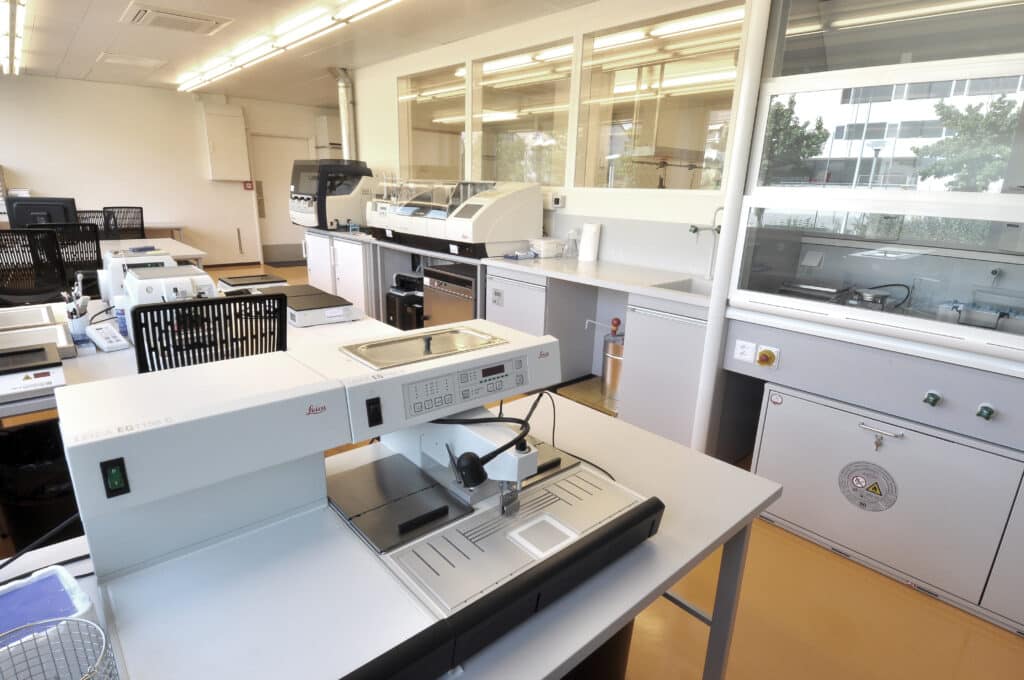 Listening to the client's needs and adhering to all project criteria
On May 27, 2015, this initial meeting allowed the assigned team members to fully comprehend all the criteria set forth by the client, as well as the specific requirements of this particular professional sector. 
"Dr. Seelentag's main requirement was to obtain a highly secure solution. It's a crucial criterion in the field of medical data processing. When we took on the IPR Web project, the client was generating reports in PDF format, which were then printed and sent to clients either on paper or via the Internet. It was far from satisfactory for Dr. Seelentag, who wanted to bring his laboratory into a new era that closely catered to the needs of the prescribers
We took the time to analyze the tools they had at their disposal, and we worked tirelessly to develop a results publishing system as desired by the client. It was an exciting project for the entire team, as we were delved into a very specific field that demanded a high level of excellence to meet the client's requirements, both in terms of security and the confidentiality of the data processed."
Loïc Malot, Head of the Custom Software Development department
IPR Web: A true technical challenge
With their expertise and a clear understanding of the project's urgency, Loïc Malot's team swiftly proposed a comprehensive solution to the Institut de Pathologie Romand. So how does IPR Web, the solution developed by our Custom Software Development department, actually work?  
The software used by the Vaud laboratory since its inception, produces the report following the analyses conducted by Dr. Seelentag and his staff. Subsequently, the encrypted data is transmitted to a secure server before being loaded onto IPR Web's "prescriber" interface.  
"Thanks to Qim info's impressive development, our clients now have the option to retrieve their results from their personal space or seamlessly access them within their own systems, eliminating the need for laborious administrative tasks," continues the specialist. It was obvious to us that we needed to save time in transmitting reports while making our client's lives easier. So, by offering gateways to their prescription software, Qim info enabled our clients to directly receive the reports we produce in real-time.
Whatever the time of day, as soon as the report is generated by our team, it becomes instantly available to our clients who also have permanent access to their archives. Additionally, Qim info has also set up a system enabling physicians to online prescriptions requests."
Dr Walter Seleentag, Director of the Institute. 
To ensure the secure transmission of data, Qim info has chosen a high-quality Swiss hosting provider. "Everything is completely encrypted through an extremely large and unreadable data system. We are extremely satisfied with the work that's been accomplished, both in terms of content and presentation, as we have complete confidence in the deliverables." 
"Qim info was exceptionally responsive."
"I was genuinely impressed by their analytical and innovative abilities. The developers even surpassed my expectations by offering ideas that hadn't occurred to me. I must also highlight that cost management was consistently under control. Loïc's teams were exceptionally responsive and even today, if a minor issue arises, they react quickly. While the software owner takes a long time to respond, Qim info is always readily available."
Loïc Malot shares the same level of satisfaction: "We really enjoyed working with Dr. Seelentag. He is a highly professional individual who knows how to get straight to the point by clearly expressing his expectations. This collaboration has also allowed us to acquire new knowledge in the medical field, and I am thrilled to continue working on this software. This trusting relationship has lasted for 8 years, and now we are looking towards the future by considering, following IPR's suggestion, the development of a comprehensive software to replace the one currently used by the laboratory. Although nothing has been initiated yet, it is extremely gratifying when a client thinks of you for other projects, especially when they are of this magnitude." 

    What is IPR Web?
An interface designed for medical analysis prescribers. 

A secure means of transmitting confidential reports issued by the laboratory. 

A time-saving solution for IPR and its clients through direct reception of analysis reports. 

An innovative software that serves as an interface between the software used by IPR for report production and those used by prescribing physicians