"Luther King, Churchill, Cyrano or even Jean Dujardin in OSS 117. Profound speeches, muddy lines and words against the grain of thought."
While eloquence is a particularly recognized art in Switzerland, a few days ago, our collaborator Houssameddine Ghorab animated a QimTalk on this theme: about twenty people had answered present to discover this very particular exercise. Let's look back on this experience with Houssam.
---
How did you prepare your Qim Talk?
To organize this event, I based myself on my previous experiences and training in Paris (Eloquentia competition and training, oratory trainer at the Leonard de Vinci center, first place in the Echos pitch competition, etc.). Beyond that, in public speaking, 3 main principles have been defined since Antiquity:
Ethos: The form of the speaker, the aura and image he conveys, which changes according to context (presidential speech, funeral, wedding etc.),
Pathos: Emotion is important to arouse the empathy of the audience and, in addition to the form, have a real human depth.
Logos: In addition to these two aspects, the content is necessary to convince the most skeptical and rally to your cause a maximum of people.
To initiate this art, after a short introduction, I had prepared 5 participative exercises based on these 3 principles.
---
5 exercises, which consisted of what?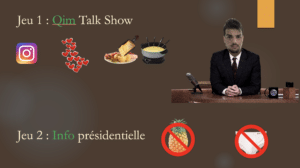 The first exercise I proposed to the participants was the "Qim Talk Show". I asked some participants to improvise a presidential speech to… ban the wearing of underwear in France! Indeed, having the eloquence of a president must be independent of the substance of the speech. Others participated in a debate where we had to play controversial personalities to talk about polyamory (minister, seduction coach and university professor).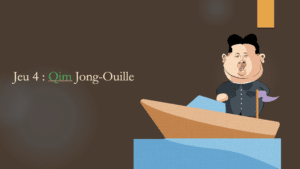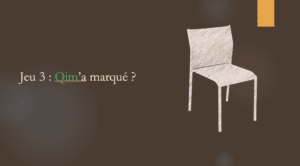 Then, we debated around the "Qim Jong Ouille", a game during which shipwrecked people had to save their skin thanks to a 1 minute speech! The participants then discovered the famous "Qim m'a marqué" whose objective is to give life to a banal chair and to make it absolutely unique and endearing. As the evening came to an end, the "KesQim'a fait rire" allowed the participants to find the end to 3 known funny stories. The punchlines that made people laugh the most won the trophy for the best comedian! Finally, we closed this QimTalk with one of the most important questions of our century: "The lower back tattoo, an object of temptation? The objective of course was to find the arguments and improvise the speech as an announcer to close this event.
---
How was the atmosphere?
The participants were very dynamic and interested, we laughed a lot and the different games proposed allowed us to discover the art of eloquence in a playful way; each member of the teams was motivated to play his role thoroughly! We were able to exchange tips on how to speak more easily in public (books, videos, training etc…) in an informal way around a buffet. A great success!
---
You couldn't come?

Go further and discover the trailer of the documentary film " A voix haute" built around the Eloquentia contest: